Safe real estate choice for 2021
As one of the rare countries that still maintain a positive GDP growth rate in 2020, Vietnam's economy has taken measures to adapt quickly. Prominent is the shift to safe zones in traditional investment channels.
Safe parking in the context of the "new normal"
As noted by analysts, Vietnam has overcome the "Covid-19 year" spectacularly, with record high liquidity in many investment channels and strong participation of new investors. To explain this "rise", there is a significant impact of financial-monetary measures to support businesses and people, including tax reductions, tax deferrals and free land use for small businesses. The company has created great peace of mind for the market.
Real estate is chosen by many investors as a shelter channel, especially the type of land plot in localities bordering big cities with good transaction volume and positive increase in value. According to Mr. Ha Quang Hung, Deputy Director of the Housing and Real Estate Market Management Department, Ministry of Construction: "Last time, the supply in the market was not like the previous time, so house prices still tend to increase. Specifically, high-end residential apartments increased by about 0.5%. Mid-end apartments increased by 2-3%. Land plots will increase by 3-5%, especially in some places by 10%.
There are no more land fevers that overnight prices can increase up to 30%. With no more surfing transactions, investors in the Covid-19 era prioritize projects in areas that have been specifically planned and have a solid development roadmap, have legal guarantees and are developed by private companies. prestige one.
Greener to last longer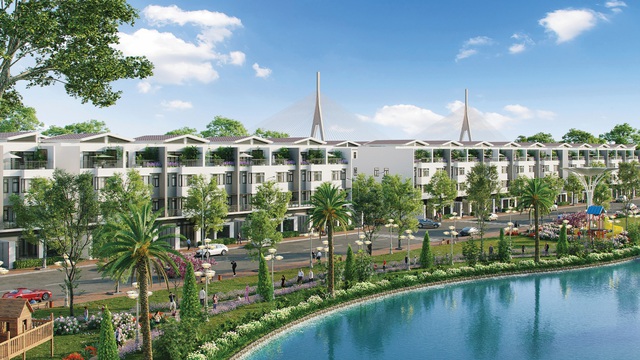 Previously, the trend of green living was still limited to a small group of user segments and high-end products, but since Covid-19, green has become a strong and popular demand.
In the real estate sector, housing projects near the river are being sought by investors and home buyers. In Dong Nai and Nhon Trach markets alone, river villa products are always sold out because of the advantage adjacent to the eastern gateway of Ho Chi Minh City, the surface of the Dong Nai river flowing through here is much wider than the branch flowing through it. areas of Binh Duong or Nha Be. The price level of riverside villas in Nhon Trach is also much lower than those of the same area in District 2 or District 7. While the average price for river villas in Kim Cuong Island is about 60 billion VND. Just spend a third of the money to be able to own a villa in the King Bay project – a very hot project in Nhon Trach today – with an equivalent area.
Not only outstanding in price range, the King Bay project is also attractive to investors as well as people wishing to buy a house to live in because of its rare location: surrounded by 3 rivers and located right in front of Ring 3. With a construction density of only 30%, King Bay has a densely planned area of ​​water and trees to bring fresh air to residents. Moreover, the project is located in the core planning of Nhon Trach urban area, has been heavily invested in construction and infrastructure by the provincial government to become the new administrative-economic center of the whole eastern gateway area of ​​​​Ho Chi Minh City. Ho Chi Minh City.
King Bay has subdivisions that are modeled after famous cities in the world such as Vancouver, Manhattan… In each of these subdivisions, residents have both a life close to nature and a full range of utility systems. class, meeting all needs from the basic to the most luxurious. The large parks are densely arranged for an always peaceful atmosphere. The international standard education levels from kindergarten to high school are the ideal development environment for future generations… And when investing not only to get benefits, but also to create values, that's it. when the sustainable development cycle begins.
King Bay has a lot of "net gold" offers waiting for the most agile investors. See more at: www.facebook.com/kingbay.vn.Official
Sunshine
According to Economic Life