HO CHI MINH CITY REAL ESTATE MARKET QUARTERLY REPORTS | Q3 2021
VIETNAM'S ECONOMY
GDP in the third quarter of 2021 was estimated to decrease by -6.17% over the same period last year. GDP in the nine months of 2021 increased by only 1.42% over the same period last year due to the COVID-19 pandemic seriously affecting all sectors of the economy.
​Gross domestic product (GDP): + 1.42%
Index of industrial production (IIP): + 4.1%
Number of newly established enterprises: 85.481 thousand enterprises
Total retail sales of consumer goods and services: – 7.1%
Realized investment capital: + 0.4%
Total export turnover of goods: + 18.8%
Total import turnover of goods: + 30.5%
Trade surplus: 2.13 billion USD
International visitors to Vietnam: – 97.0%
Average consumer price index (CPI): + 1.82%
Core inflation: + 0.88%
CONDOMINIUM MARKET
In Q3 2021, only two high-end projects were launched online while others delayed their selling plan. Because of the disadvantages of conducting online transactions and the cautious psychology of both investors and customers, new supply fell to its lowest level over the past three years with 1,600 newly launched units, equivalent to around 40% of the previous quarter. However, despite conducting sales online, the two newly launched projects achieved outstanding performance with the sold rate of 82%; notably Binh Tan District firstly recorded a project in the high-end segment.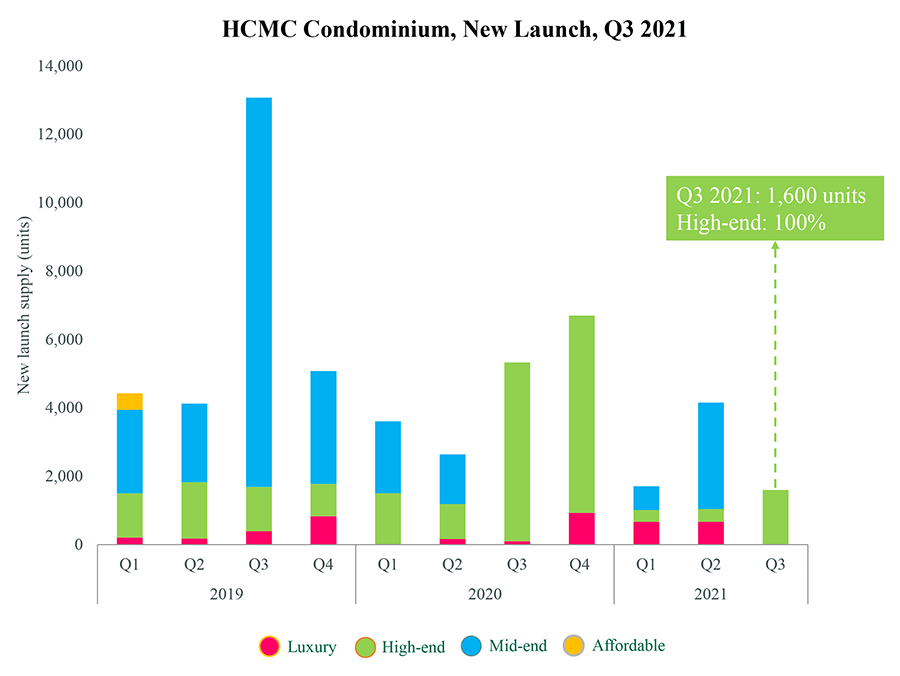 The total new supply in the first 9 months of 2021 was 7,464 units, down 35% compared to the same period in 2020. The total accumulated supply since 1999 of HCMC is 311,746 units. The mid-end segment led with 43%, followed by high-end (31%) and affordable (23%). The luxury segment accounted for 3% of the cumulative supply
The number of sold units in Q3 2021 decreased by 68% y-o-y to 1,582 units because of limited new supplies. Similarly, the first 9 months of the year recorded 8,956 units sold, down 17% compared to Q3 2020.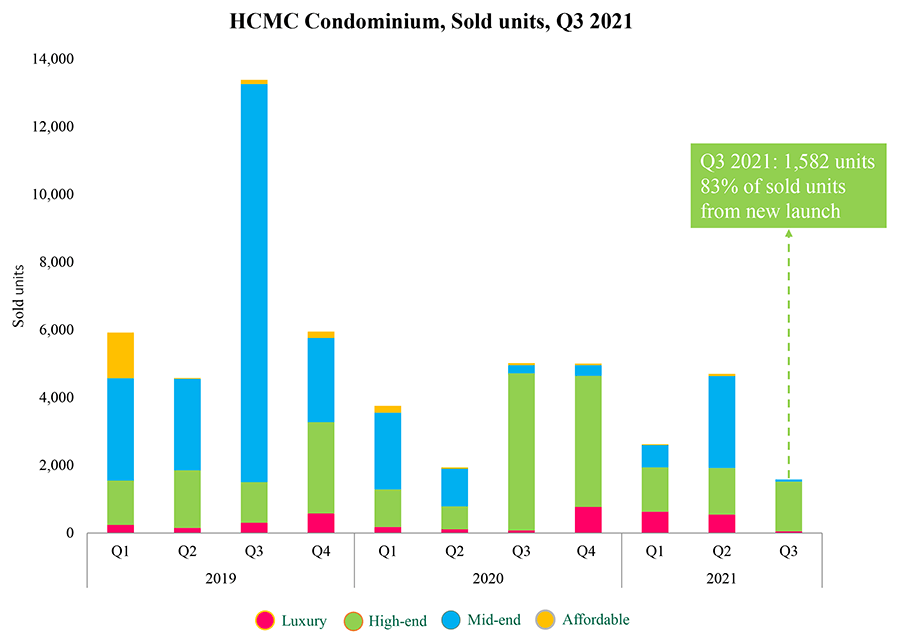 The average primary price was US$2,271 or VND 53 million per sqm (net of VAT), up 17% y-o-y. All segments witnessed positive price growths. The luxury segment had the highest price increase of 8% y-o-y, and three remaining segments had average price increases ranging from 2% to 4% y-o-y.
In Q4 2021, we expect to have 6,000 condominium units newly launched, leading to the total new supply in 2021 reaching about 13,000 units. Total number of sold expects over 12,000 units in 2021 from new launch this year and inventory, equivalent to an absorption rate of 94%.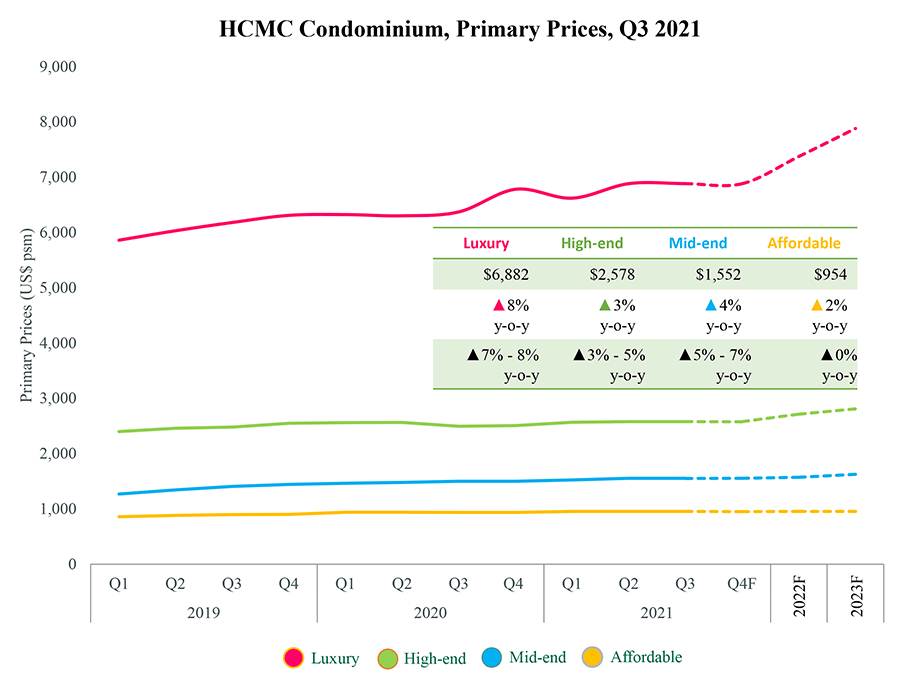 Primary prices will continue its upward trend thanks to steadily growing demand and scarce land bank in the inner city. The primary price of high-end and mid-end segments is expected to grow 3-7% y-o-y. Driven by the upcoming branded residence projects, the luxury segment will see the highest price increase of 7-8%. In contrast, the price of affordable segment will have not much fluctuation due to no new supply.
Condominium ranking criteria:
Luxury: Projects that have primary prices over US$4,000 psm
High-end: Projects that have primary prices from US$2,000 psm to US$4,000 psm
Mid-end: Projects that have primary prices from US$1,000 psm to US$2,000 psm
Affordable: Projects that have primary prices under US$1,000 psm
By 2024, future supply is estimated at 120,000 units from 119 projects, mostly Mid-end at 48% share. Thu Duc City will be the main supplier with a 44% share.
LANDED PROPERTY (READY-BUILT VILLA AND TOWNHOUSE)
Limited new supply with the fourth COVID-19 wave, developers were cautious in launching projects, new supply continued to be scarce.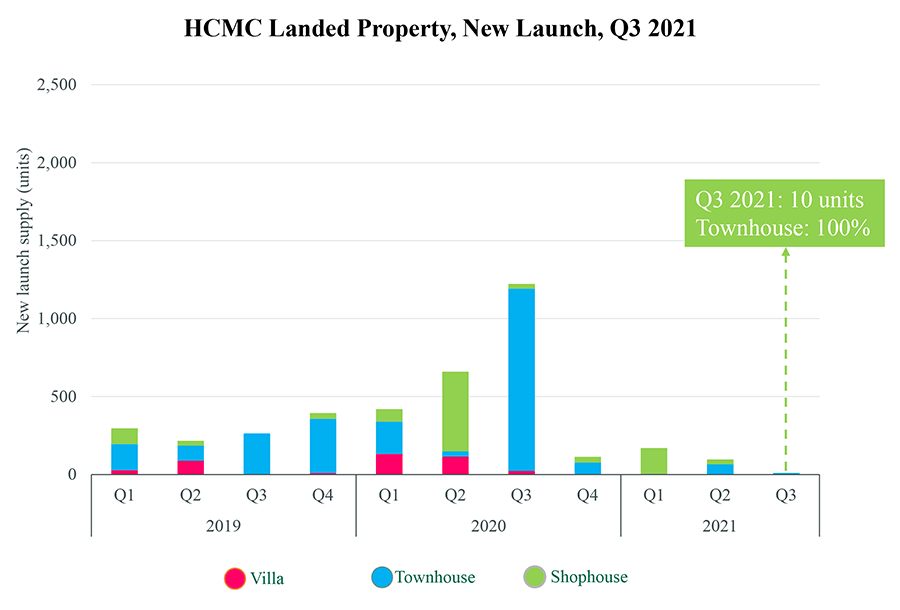 In Q3/2021, HCMC landed property has easily retained interest. The absurdly tow supply volume guarantees purchaser favour, but also pushes demand into alternative locations such as Dong Nai, Binh Duong and Long An.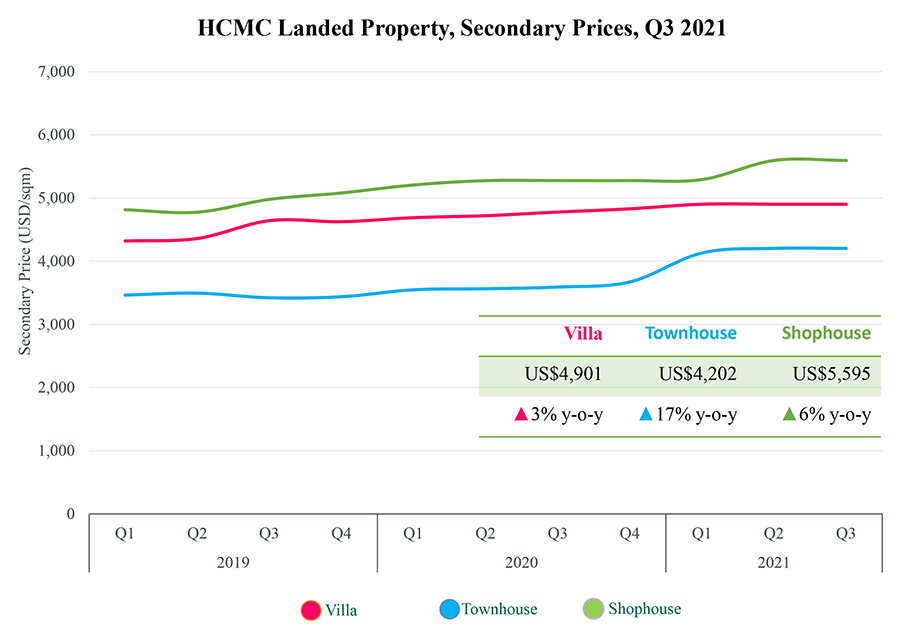 Future supply to 2024 is expected to reach nearly 9,600 dwellings/ plots. Thu Duc City has the greatest share at 33%, followed by Binh Chanh with 24% and Binh Tan with 11%. With available land bank, good urban planning, and infrastructure appeal, Thu Duc City continues to encourage residential development.
Under the impact of lockdowns and social distancing, homebuyers preferred compound projects with diversified facilities. Suburban districts will be favored.
RETAIL MARKET
COVID-19 control act has forced the shutdown of all shopping malls since June. All projects were considering reopening in October 2021 according to safety policy and reducing daily open time; entertainment sectors were still close until further notice. Existing tenants were freed from paying rent for the period under Directive 16 of Government.
In Q3 2021, the market did not welcome any new supply. The total retail supply in HCMC stayed at 1,068,128 sqm NLA. The rental rate in the CBD was US$137 psm pm, unchanged from the previous quarter, and the rental rate in the non-CBD was US$32.6 psm pm, a decrease of 3.8% q-o-q, for landlords offering incentives on vacant spaces.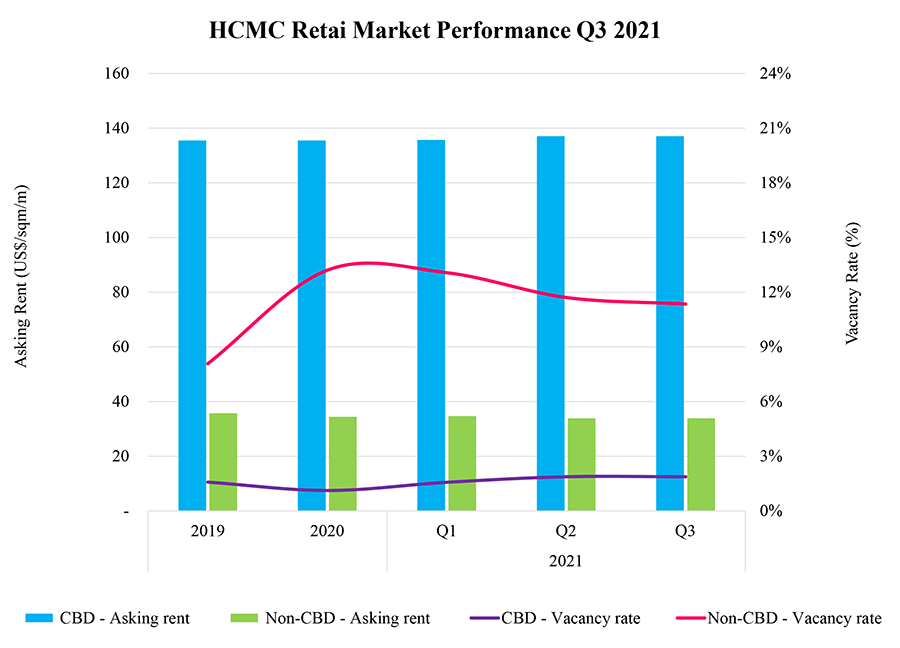 In Q3, Masan invested in a 70% stake in Mobicast to expand in the field of digitalization and Mobile World recorded good performance from Bach Hoa Xanh supermarket chain. In other provinces, Go! Supermarket chain by Central Group will be active in expansion/renovation in the next two years. At large projects of townships, hospitality, etc., developers are paying more attention to their retail components.
The market expects over 200,000 sqm retail NLA by 2024 in different zones. In the short term, categories of F&B, Coffe Chain, Convenience store, Health and Beauty, Sport wear, Casual wear will continue expanding at shophouse format and in other provinces because of delays of the opening of new shopping centres in the city.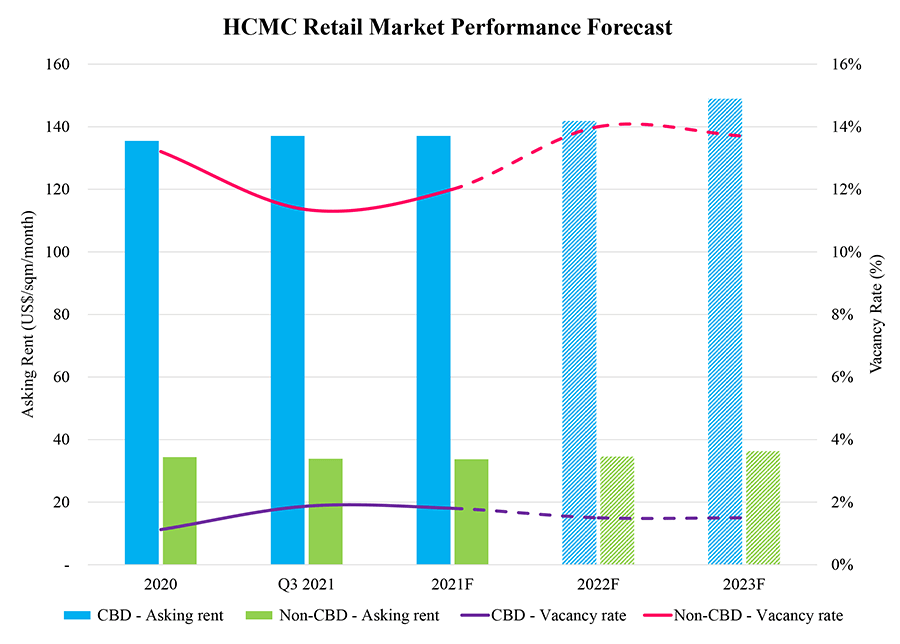 We expect the market to experience down period in the last quarter of 2021 during which, pandemic control act is still going to be a priority of the city. In coming times, shopping centres, especially those of large scales, will need to adjust their support policies, lease terms, and update category mix to better fit demand for new brands. In terms of the macro-economy, only when GDP recovers alongside personal incomes improve, the retail market could enter a new cycle of growth.
Source: https://scgroup.com.vn/