Vinpearl Grand World Phú Quốc
Project information
Project name : Vinpearl Grand World Phu Quoc
Location : Long Beach, Ganh Dau, Phu Quoc District, Kien Giang Province (Next to Casino and Vinpearl Phu Quoc complex)
Investor : New Vision Real Estate Company Limited (Vinpearl is a shareholder)
Total area : 851,096m2
Total construction area: 167.475m2
Building density: 19.68%
Type of development :  Commercial shop –  Boutique Hotel –  Resort apartment
Operational management unit: Vinpearl brand belongs to Vingroup.
GRAND WORLD PHU QUOC PROJECT OVERVIEW
On April 21, Vingroup officially opened the leading resort and entertainment complex in Southeast Asia – Phu Quoc United Center in the north of the pearl island. This is a great project invested and built for many years, integrating a huge world-class service ecosystem, with the expectation of exploiting the full potential of Vietnam's first island city and "waking up". Phu Quoc.
With an ecosystem of thousands of utilities and record entertainment items, Phu Quoc United Center not only fully meets the needs of enjoyment – fun – rest – discovery for all visitors, but also offers unique experiences. unprecedented experience in Vietnam. In particular, Grand World – "the city that never sleeps" is known as the "heart" of Phu Quoc United Center.
Not only bringing a high-class resort space on Pearl Island, the Grand World Phu Quoc project is also a preeminent profitable investment opportunity for any Investor who wants the investment capital to be used efficiently and effectively. maximize profits.
LOCATION "EXCLUSIVE IN VIETNAM"
GRAND WORD Phu Quoc is  located in the complex of tourism – resort – entertainment  Phu Quoc United Center , welcoming more than  8,000,000  domestic and international tourists in  2019 . This creates a bright location that is extremely suitable for developing  busy business models.
GRAND WORLD – TOURISM AND ENTERTAINMENT PLACE
With a scale of 85 hectares, located in a central location, Grand World owns many splendid and magnificent architectural works with busy and trendy commercial streets. Along with that, there are hundreds of exciting festivals and parties, recreating a series of bustling entertainment centers of Venice, Shanghai, Night Market, Kstreet, Vietnam… All of which operate non-stop 24 hours. /day, 365 days/year, creating a bustling circle and endless festival space, full of energy similar to famous sleepless cities in the world.
Only at Grand World Phu Quoc – visitors will have the opportunity to enjoy top-notch entertainment technology with the most spectacular multimedia show of Vietnam's elite; discover Bamboo Legend – The largest Bamboo Legend in the country made from 32,000 bamboo tops; visit the Teddy Bear Museum – a destination that attracts millions of young tourists; traveling on canals with beautiful Venetian colors; see the ancient Venice Clock Tower; Immerse yourself in the 19,500 m2 Sea Square or admire the unique artworks at Urban Park Contemporary Art…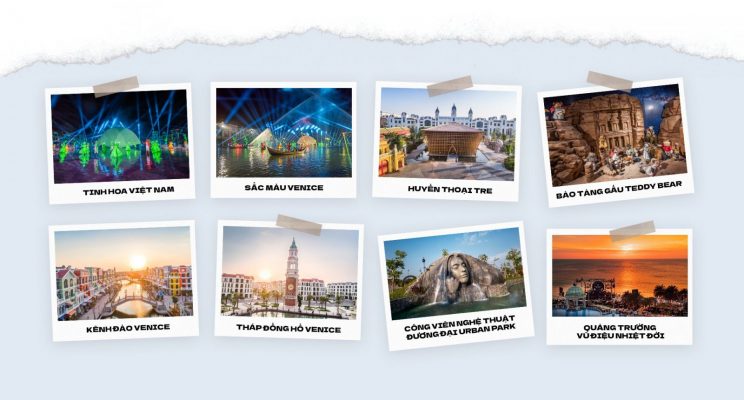 Connecting to the "city that never sleeps" is the land of "never bored" that has been open since April 2020 – VinWonders Phu Quoc; Southeast Asia's largest theme park has a scale of nearly 50 hectares with more than 100 attractive games and overwhelming shows that need several days to fully explore. Or experience an exciting return to nature at one of Asia's largest semi-wildlife conservation parks – Vinpearl Safari is also a Vietnamese-branded tourism activity in this island city.
With the mark of the pioneer of the "sleeping city" model in Vietnam, Grand World Phu Quoc not only laid the foundation for the development orientation of Vietnam's night economy, but also marked a step forward, bringing Vietnam to the next level. become the new international destination on the world tourist map.
INVESTMENT PRODUCTS AT GRAND WORLD PHU QUOC
Commercial shop : Number of 979 units; there are 4 subdivisions: Square, Shanghai, Indochina, Mallorca; Area 70m2 – 80m2 – 90m2 – 100m2;
Resort apartments : The number of 12 buildings includes about 10,000 apartments; 5 star quality; Maximum height of 8 floors; Area from 25m2 to 54m2;
Boutique Hotel : Area from 162 to 482 m2 but most are 8x25m, equivalent to 200m2; Height 8 Floors; Complete according to 3 options: Self-design and build, design customers and construction investors, design and build authorization; The maximum time to start construction is February 2020 and is expected to start operating in mid-2021.
COMMERCIAL SHOP SECTION
The shop area  Mallorca ,  Indochine ,  Shanghai  and  shop plaza  has been completed and put into operation in late 2020.
Welcome Square Sub-area

(Welcome gate adjacent to Welcoming Square and ShangHai sub-area)
Shanghai Sub-Region
02 rows of shop fronts along the Vernice River COMPLETED to create a colorful ShangHai area, promising to be the "Check-In" capital for tourists when relaxing and having fun at  Grand World.
The railings on both sides of the Venice River  have been completed 100% of the work, ready to welcome visitors to visit and entertain.
03 bridges across the river are a special highlight of the Venice River or a row of shops facing the ShangHai River  . Called "Love Bridge". It not only gives  Grand World a delicate beauty but also treasures with wishes of  Peace – Love – Happiness.
The floating restaurant, boat dock will definitely be a romantic stop to close the loving space, and the soaring emotions of the Venice River  bring to visitors.
(The lakefront shops full of "Love" nestled next to the romantic Venice River)

(Sunset masterpiece on the Venice River at Grand World)
Indochine Sub-Region
Indochine Style  – Indochine style is a blend of traditional Asian features and classical French architectural style in the late 19th century and early 20th century.
The exterior of the Indochine subdivision will be designed in a Neoclassical  style like buildings in Hanoi during the French colonial  period.
(Shophouse with Indochinese style design)
Outstanding Features:
The most notable point for Indochine Sub-Area   is the   extremely busy and bustling "Night Market" . The Shophouses here will welcome the full number of guests with a love of real music at night. This will be a huge source of income for Shops in Indochine.
Mallorca . Sub-Region
Shophouses in this area have been completed and ready to be handed over to investors.
(The Mallorca shop area has been completed and is ready to be put into business)
(The fresh and energetic look of Mallorca shops)
Outstanding Features:
With the Mallorca Sub-Region, the most notable points are:
Designed with a fanciful dome, and the gathering of a series of leading fashion brands in the world such as Chanel, Dior, Gucci, H&M, ZARA,… Mallorca Sub-Area will satisfy all the followers. about fashion and this is also a golden opportunity for owners of fashion shophouses here.
Is the Subdivision bordering the Sea Square – Where will periodically organize Music Festivals of International stature
With music events gathering A-list stars of Vietnam held monthly. Coming to Grand World, is coming to the "Festival City that never sleeps". You and your family will have relaxing moments with music parties here.
Special  Music Event with international scale and stature, with the world's top DJs will be held periodically 2 times / year. Now  Tomorrow Land is  no longer far away from the Ravers because it exists right at  Grand World Phu Quoc
VINHOLIDAYS WORLDWIDE APARTMENTS 
Vinholiday Court 1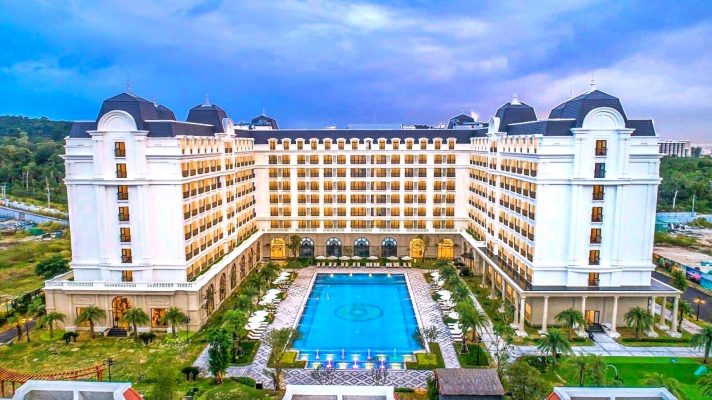 (Vin Holiday 1 Building has been completed, is about to be handed over and ready to go into business)
Vin Holiday Building 2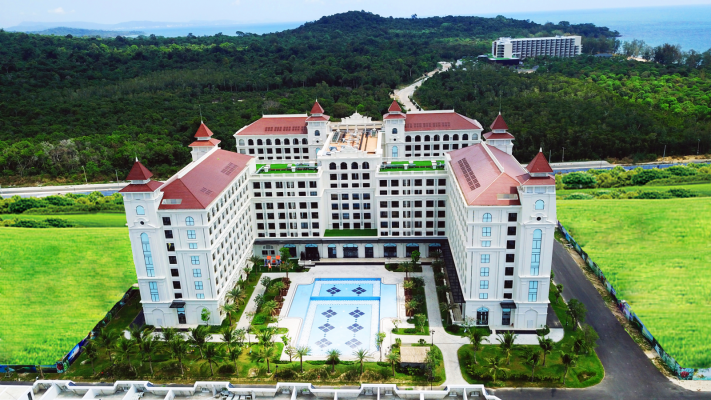 (Actual image of Vin Holiday 2 building at Grand World)
BOUTIQUE HOTEL SECTION
Some design tweaks:
Planning to be completed in May 2020
The form of handover includes raw house and land (the old form is only land) and opens for sale in June 2020
Planned 1 lot: 8×25 I area about 200m2 I 8 floors
(Boutique Hotel's majestic appearance)
Exciting and Exciting Activities at Grand World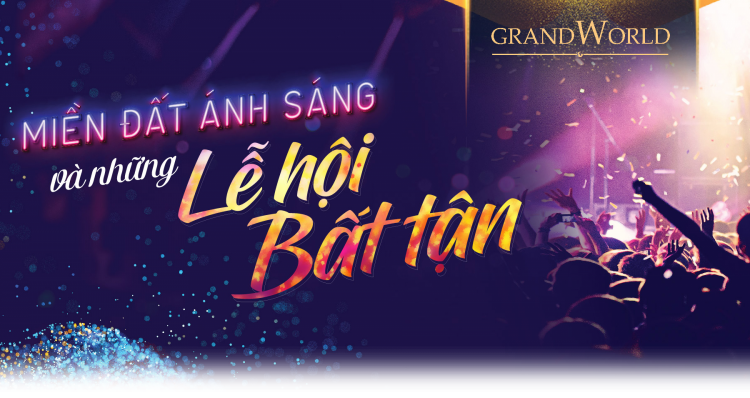 The first night city of Vietnam will be the place where a series of events – bustling activities 24h/7 with nearly 7,200 grand performances, 12,000 mini shows per year. Owning thousands of record entertainment items and a resort and shopping ecosystem operating 24h/7 on a scale of more than 1,000 hectares – Phu Quoc United Center is officially the first "no sleep" super complex in Vietnam. Vietnam.
Vingroup hopes that the presence of this resort entertainment center will make Phu Quoc a "new international destination" in Asia, a "university of tourism – entertainment" in Vietnam that can be compared to other countries in the world. The top attractive destinations on the planet such as Jeju (Korea), Clarke Quay (Singapore), Las Vegas (USA) …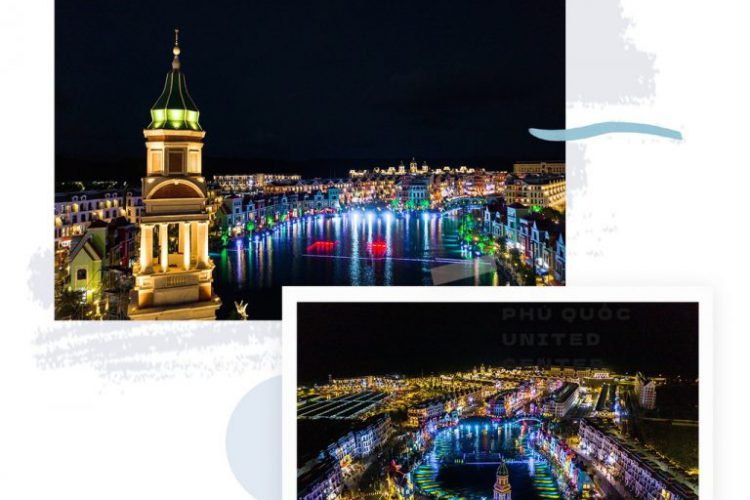 Exciting and exciting daily/weekend/monthly activities will take place at  GrandWorld Phu Quoc – A vibrant destination , leading the investment trend with a lucrative 24/7 night economy  .
With the mark of the pioneer of the "sleeping city" model in Vietnam, Grand World Phu Quoc not only laid the foundation for the development orientation of Vietnam's night economy, but also marked a step forward, bringing Vietnam to the next level. become the new international destination on the world tourist map.