Expanding Vung Tau – Binh Chau coastal road to 6 lanes, total investment capital of 7,150 billion VND
The 78km-long coastal road connecting Phu My with Xuyen Moc district will be upgraded and expanded to 6 lanes, with an estimated investment cost of VND 7,150 billion.
The above information has just been reported by the Ba Ria – Vung Tau Provincial Portal on the direction of Nguyen Van Tho, Chairman of the Provincial People's Committee believes Ba Ria – Vung Tau, basically agreeing with the proposal to upgrade and expand the Provincial Road. 994 – Vung Tau coastal road to Binh Chau with a scale of 6 lanes.
The project of upgrading and expanding the provincial road 994 is approved by the investment policy in Resolution No. 120/NQ-HDND dated December 13, 2020 of the People's Council. The Provincial People's Committee assigned the Department of Transport to review the entire route; complete the dossier to submit to the Provincial People's Council for the policy of adjusting Resolution No. 120/NQ-HDND.
According to the investment policy to expand this coastal route, the Vung Tau – Binh Chau coastal route has a length of about 78km, with the first point intersecting with road 991B in the territory of Phu My town and the end point intersecting with National Highway 55 of Phu My town. Xuyen Moc district.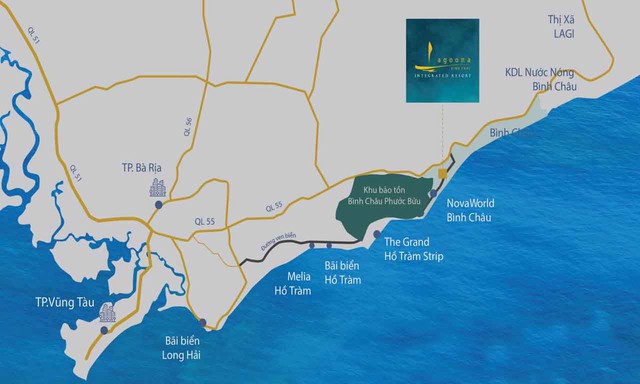 Currently, the 3.7km long road from Long Son to Cai Mep is under construction, the section from Cua Lap bridge to Lo Voi fork in Long Dien district with a length of about 3km is also under construction. The mountain road with a length of nearly 6km from Thuy Duong tourist area to Long Phu junction is being cleared;
The section from provincial road 997 to National Highway 55 with a length of nearly 34km with a cross section of 28m has been approved but has not yet been constructed. This section of road has been proposed by the Department of Transport of this province to widen the cross section of this road to 42m – the size of 6 lanes. Total investment to upgrade the whole route is about 7,150 billion VND and the investment is phased in 2 phases.
This is a coastal route of great significance to the socio-economic development and tourism of Vung Tau. Along this route, there have been a series of large-scale resort real estate projects such as NovaWorld Ho Tram, Ho Tram Strip, Melia Ho Tram, Ho Tram Complex of Hung Thinh.
Peace
By Business and Marketing